Intensive care units (ICUs) face being overwhelmed in UK hospitals unless coronavirus rates are brought under control, Boris Johnson admitted.
Mr Johnson said there was a "very substantial" risk that ICUs would be unable to cope if numbers kept increasing.
The Prime Minister's stark warning came as the daily reported death toll reached a new high, with 1,564 fatalities recorded within 28 days of a positive test.
The latest figures mean the grim milestone of more than 100,000 deaths involving coronavirus has now been passed in the UK, according to official data.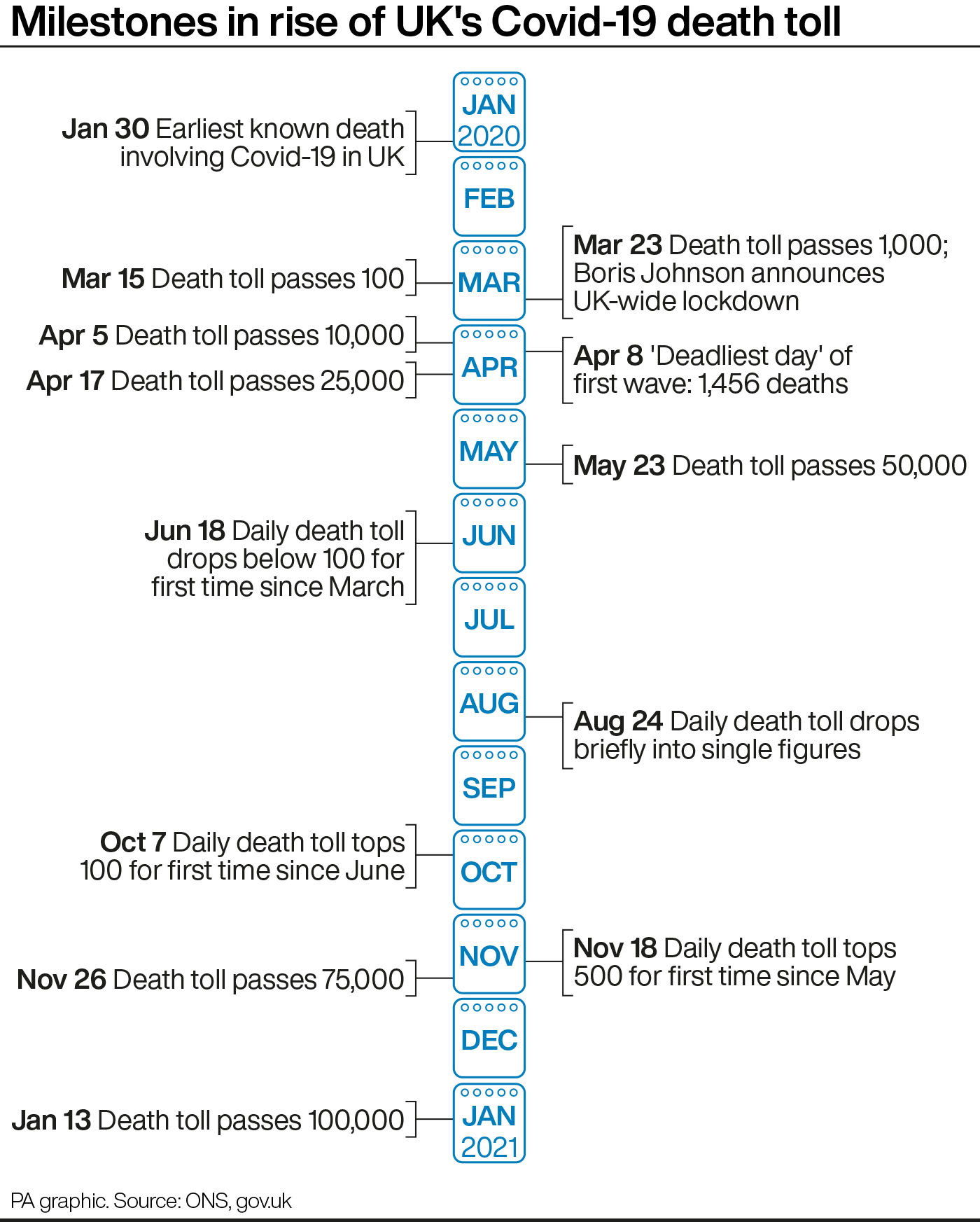 The Prime Minister told MPs: "If you ask me when do we think that the ICU capacity is likely to be overtopped, I can't give you a prediction for that.
"But all I can say is that the risk is very substantial and we have to keep the pressure off the NHS and the only way to do that is to follow the current lockdown."
The latest official figures on the coronavirus dashboard show more than 36,000 people are in hospital with coronavirus, including almost 3,500 on ventilation.
Mr Johnson told the Commons Liaison Committee that "the situation is very, very tough indeed in the NHS" and "the strain is colossal" on staff.
The Prime Minister also acknowledged concerns about a new Brazilian variant of coronavirus, although he did not announce a ban on travel from the South American country.
"We already have tough measures… to protect this country from new infections coming in from abroad," he said.
"We are taking steps to do that in respect of the Brazilian variant."
Earlier, at Prime Minister's Questions Mr Johnson said vaccinations would take place 24/7 as soon as possible, although supply of doses remained the main barrier.
He said the process of protecting people from coronavirus is already going "exceptionally fast" but "at the moment the limit is on supply" of the vaccine.
"We will be going to 24/7 as soon as we can," he told MPs.
Health Secretary Matt Hancock will set out further details "in due course", Mr Johnson said.
More than 2.6 million people across the UK have so far received a first dose of the coronavirus vaccine.
In Scotland, vaccinations could begin on a 24-hour schedule when mass centres open in late February or early March, the country's Health Secretary, Jeane Freeman, said.
The Oxford/AstraZeneca vaccine provides the most straightforward route to protect around 15 million of the most vulnerable people by mid-February because it is logistically less complicated than the Pfizer jab, which needs to be kept deep-frozen.
Tom Keith-Roach, president at AstraZeneca UK, said: "We are scaling up very rapidly and this will happen imminently to releasing two million doses a week."